The Early Years Framework
In the Early Years, we believe that in order to engage pupils in their learning it has to be fun, creative, interactive and, most importantly, be based on the children's interests. We want all children to develop a love for learning in a safe and caring environment.
Nursery and Reception children are part of the Early Years Foundation Stage (EYFS), which is how the Government and Early Years professionals describe the time in your child's life between birth and age 5. This is an important stage of your child's development, as it helps them to get ready for school and to develop across seven key areas of learning:
Personal, social and emotional development
Physical development
Communication and Language
Literacy
Maths
Understanding the World
Expressive arts and design
This curriculum is called the EYFS Framework. You can find guidance about each of the different areas and information on how to support your child's learning and development in the booklet below.
Cross Curricular Learning
Although the EYFS curriculum can be broken down into seven specific areas, children will be developing key skills across the curriculum as they learn through their play. For example, in the sandpit a child may be role playing with their friends that they are cooking (Communication and Language, and Personal, Social and Emotional Development), counting out the number of sand cakes they have made (Maths) and manipulating tools (Physical Development). As well as this, learning will take place using carefully chosen texts linked to the topic of the half term.
Adults in the environment engage with the play to facilitate the learning and extend opportunities for the children to further their development and knowledge in all areas of our curriculum.
Characteristics of learning
Within the Early Years Framework, how children learn is considered to be just as important as what they are learning. We focus on the following key skills to ensure that pupils remain effective and motivated learners:
Playing and exploring - engagement
Active learning – motivation
Creating and thinking critically – thinking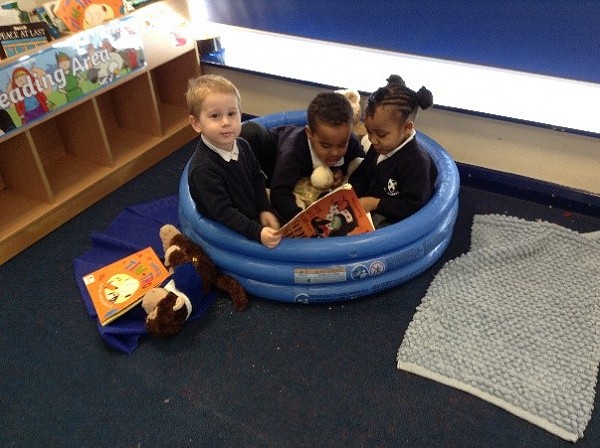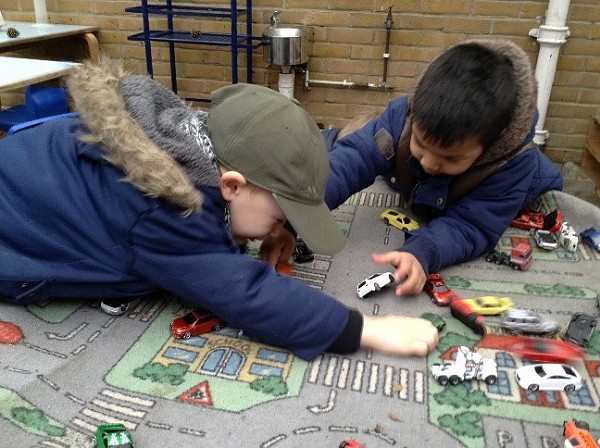 ---
Personal, Social and Emotional Development (PSED)
In EYFS we read a variety of books as inspiration to begin discussions about our different emotions and how to deal with these feelings. We encourage our children to discover activities and skills that they are good at, and to share these with their classmates during daily circle times. These include singing and dancing.
They also use a 'Feelings Board' where children can move their pictures to show their mood and how this might change during the day.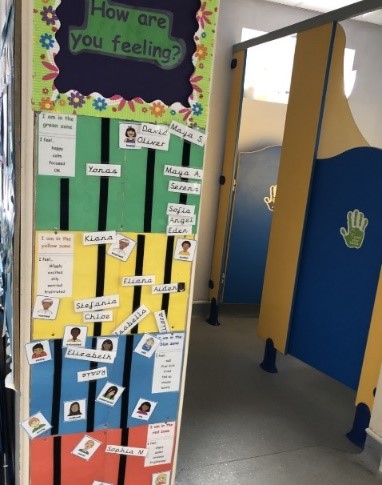 ---
Physical Development
Every day, children in the Early Years have continued access to fine motor activities, such as, threading, play dough and corn flour. We also play a variety of collaborative games incorporating the skills of throwing, catching and rolling.
The children have the opportunity to develop their larger muscle groups outside using bikes, trikes, scooters and climbing equipment as well as during PE lessons in the hall.
Children are encouraged to develop independent self-care skills and learn how to make healthy choices in relation to eating, exercising and hygiene.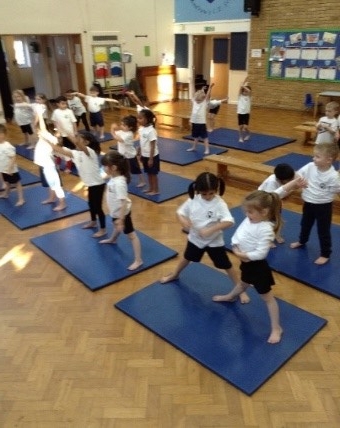 ---
Communication and Language
The children develop their communication and language skills in a variety of different ways including working in teams in different situations, listening to the ideas of others, sharing their own ideas and maintaining attention and concentration on particular tasks.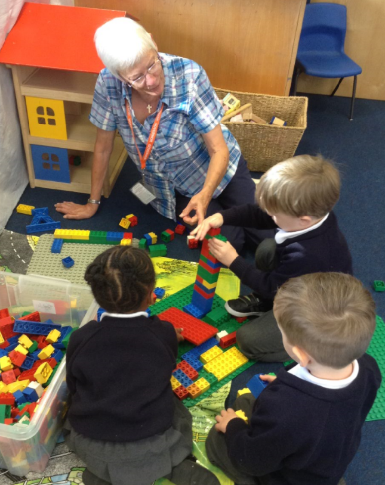 ---
Literacy
In EYFS, the children will also be exploring the world of non-fiction texts and using these to support solving daily tasks, whilst also having regular opportunities to read and listen to a variety of high-quality stories, poems, rhymes and songs. Children are learning to read and write their names each day. There will be continuous provision aimed at providing opportunities for the children to make marks and write independently in a variety of contexts both indoors and outdoors. We celebrate all mark making and display the children's work on our 'Mark Making' display wall.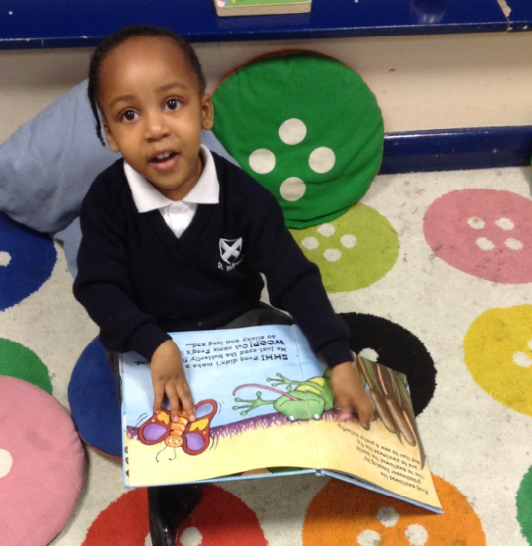 ---
Mathematics
The children will be consolidating their skills in using numbers to ten or twenty with daily counting and ordering activities. There is a strong emphasis on adults encouraging children to solve the problems that occur in their play. Children learn about shapes and their properties by handling and making arrangements with shapes and recognising them within the environment. They also develop the vocabulary and concepts of measuring length, time, size and weight.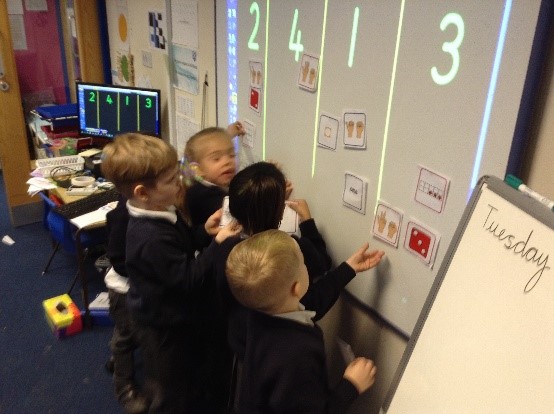 ---
Understanding of the World
The children will talk about the things that they have observed and discovered, ultimately learning to show care and concern for living things and the environment. We regularly visit our forest area where the children explore their surroundings, look for mini beasts and discover how nature changes each season.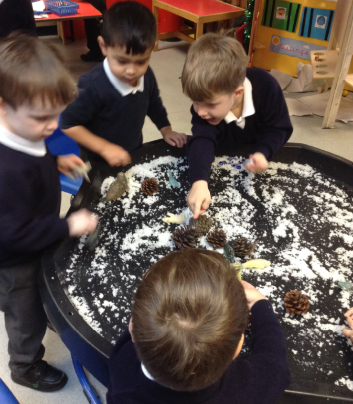 ---
Expressive Arts and Design
Throughout EYFS, the children will have daily access to our Creative area, where they are encouraged to create their own individual designs. We explore mixed media including clay, mixed collage and junk modelling amongst others.
Along with daily opportunities for singing in all classes, we also love to perform to an audience for Harvest Time, Christmas and at the end of the academic year. It's so wonderful to see how much our children's confidence develops over the year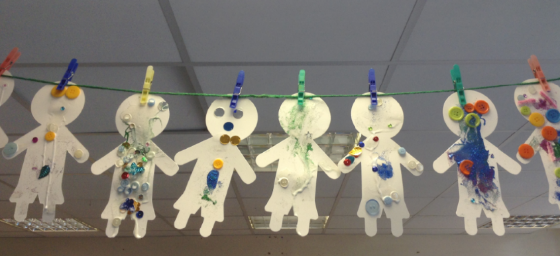 ---